San Francisco DMV Hearing vs. Court Trial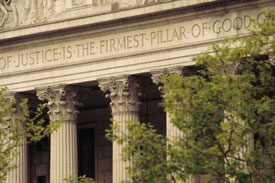 Your San Francisco drunk driving charges will be heard before a judge in a court of law. This trial is not to be confused with your Administrative License Suspension DMV Hearing. They are not related, and the outcome of one will not affect the other. During your DMV hearing, the details regarding your drunk driving arrest, in addition to the proper procedures taken by the arresting officer will be heard. Your criminal court trial will determine if you are guilty of a DUI or DUID.
It is possible that your license suspension is "set aside" in the DMV hearing, but a guilty verdict in your criminal case will result in a suspension of your license anyway. Other consequences of a guilty verdict are variations of fines, jail time, community service, alcohol classes, and Alcoholic Anonymous attendance.
The major difference between the Administrative License Suspension and a court trial suspension is that the ALS is an administrative sanction and the court trial suspension is a punishment for the DUI, thus the question of "double jeopardy" cannot come into play.
Home > San Francisco DMV Hearing > DMV Hearing vs. Court Trial